I'm calling this the Cobblestone Stitch Crochet Dishcloth because I found this stitch at JSP Create.
There seem to be many variations of the Cobblestone Stitch when I poked around on Google and Youtube. But this is what it was called from where I found it, so I'm going with it.
This dishcloth does resemble the Even Moss Stitch dishcloth pattern. And that's because it's 50% the same.

For this dishcloth instead of doing the hdc sl combo on both sides, it is only done on one side and then an sc is done on the other.
This makes it have 2 main differences. One it is more flexible than the Even Moss Stitch dishcloth. And the second difference is that there is a huge difference between the right side and wrong side of this dishcloth.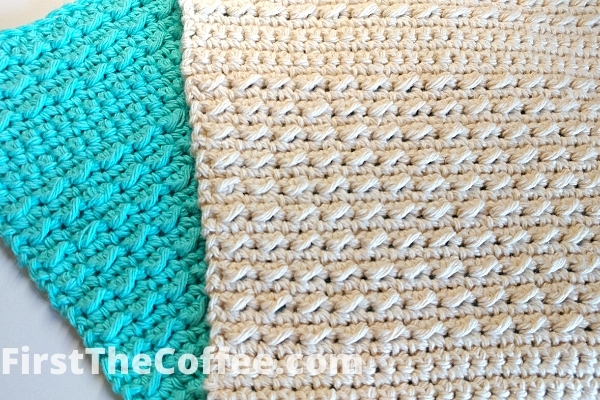 Notes:
This crochet pattern is written in US terms.
If you want to change the size of this crocheted dishcloth the foundation chain needs to be an odd number.
This pattern is mostly a repeat of 2 rows, alternating each row.
Initial chains in a row do not count as a stitch.
The finished size is 9 inches wide x 9 inches tall
The pattern has been revised as of June 2023.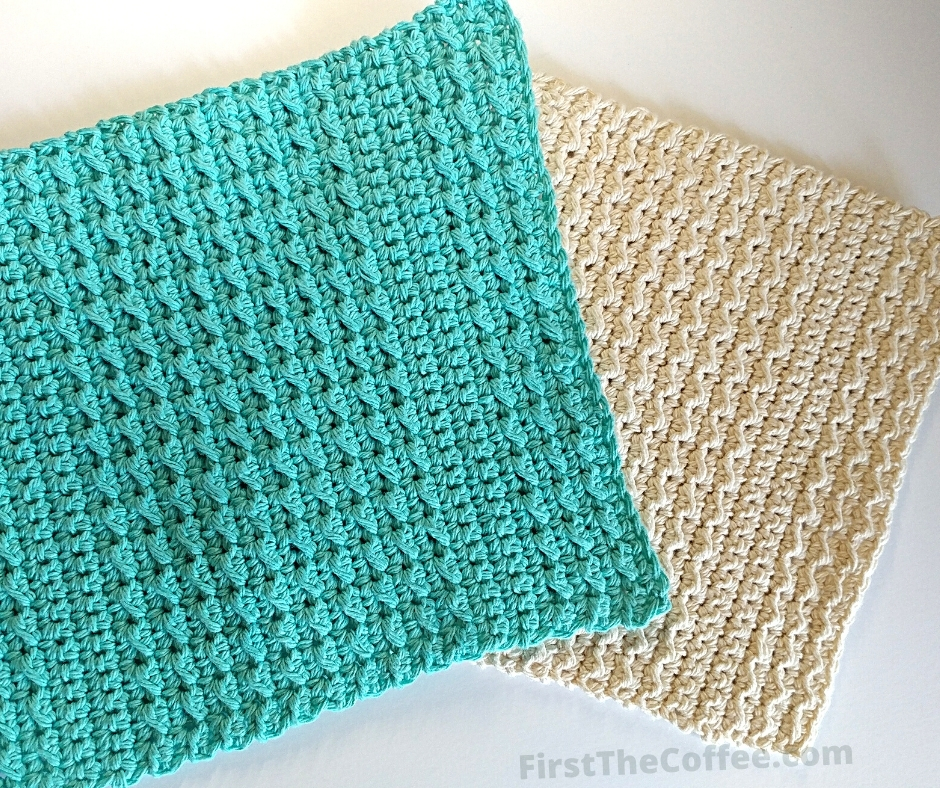 Materials:
Crochet Stitches Used: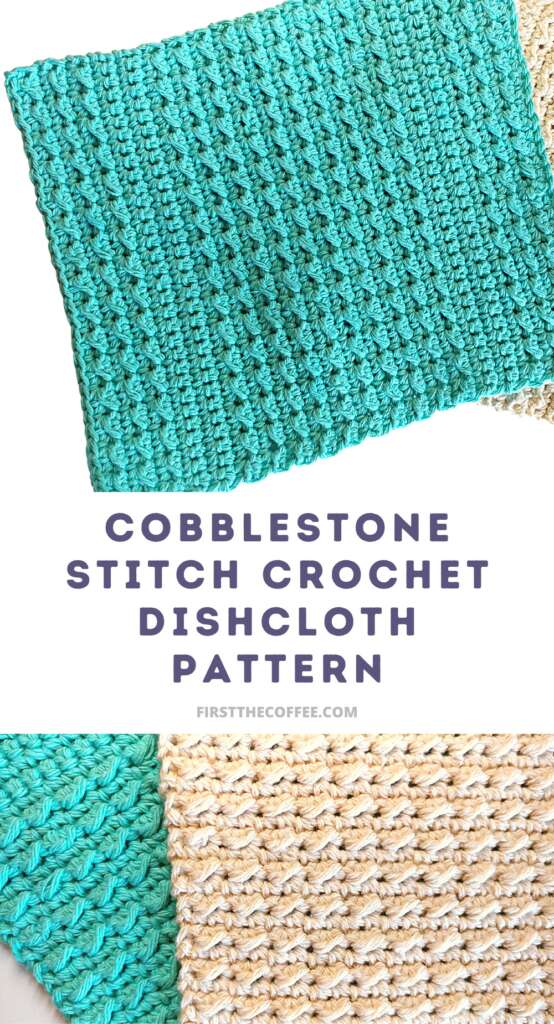 Pattern:
PDF Download
A free PDF download of this pattern is available through Ravelry.
Foundation: ch 34, turn
Row 1: sc in 2nd ch from hook, sc all the way across in each chain (33 stitches)
Row 2: ch 1,turn, hdc in first sc, * sl in next stitch, hdc in next stitch, repeat from * all across  (33 stitches, last stitch in the row should be a hdc)
Row 3: ch 1, turn, sc in 1st stitch, sc all the way across in each stitch, turn (33 stitches)
Row 4: repeat row 2
Row 5: repeat row 3
Row 6: repeat row 2
Row 7-11: repeat row 3
Row 12 – 30: repeat row 2 on the even-numbered rows (12, 14, 16 etc) and repeat row 3 on odd-numbered rows (13, 15, 17 etc)
Row 31 – 35: repeat row 3
Row 36 – 41: repeat row 2 on the even-numbered rows and repeat row 3 on odd-numbered rows. 
Fasten off and weave in ends.
(Blocking is optional and may be required to obtain a perfect square shape)
Share Your Work
Have you made this pattern? Let us know by tagging @firstthe_coffee on Instagram and use the hashtag #firstthecoffeecrochet. You can also join FirstTheCoffee's Facebook Group and show off your crochet projects.
Other Crochet Patterns from FirstTheCoffee.com:
More Crochet Dishcloth Patterns from First The Coffee Crochet:
Copyright Notice:
You may not copy or sell my patterns. You may not claim my patterns as your own. You can sell your finished items made from using my patterns but please credit FirstTheCoffee.com by linking back to this pattern. You may not re-publish my photos as your own. If you would like to share this pattern you can use 1 photo unedited with the watermark still on the photo, please give credit and a link back.