Please note that this post may contain affiliate links. You can read my full affiliate disclosure at the bottom of the page.
This week browsing Etsy there were plenty of cross stitch mandala patterns that stood out.
In this post for Etsy cross stitch pattern find I'll share some of the beautiful colorful mandalas I found this week.
Rainbow Mandala Cross Stitch Pattern
This is Rainbow Mandala from Crazy Bee Patterns
I love this mandala cross stitch pattern, the colors and the patterns in it are mesmerizing.
Violet Yellow Mandala Cross Stitch Pattern
Violet Yellow Mandala from Crazy Bee Patterns
Another Crazy Bee Patterns mandala. Crazy Bee Patterns just has some amazing mandala's so they've made this list a few times.
I love purple and yellow color combo's so this cross stitch pattern will probably get into my stash soon after I finish Sakura from last weeks Etsy finds.
Mandala III Cross Stitch Pattern
Mandala III from Stitching Land.
This mandala has some southwestern vibes, and I'm loving it.
Mandala 1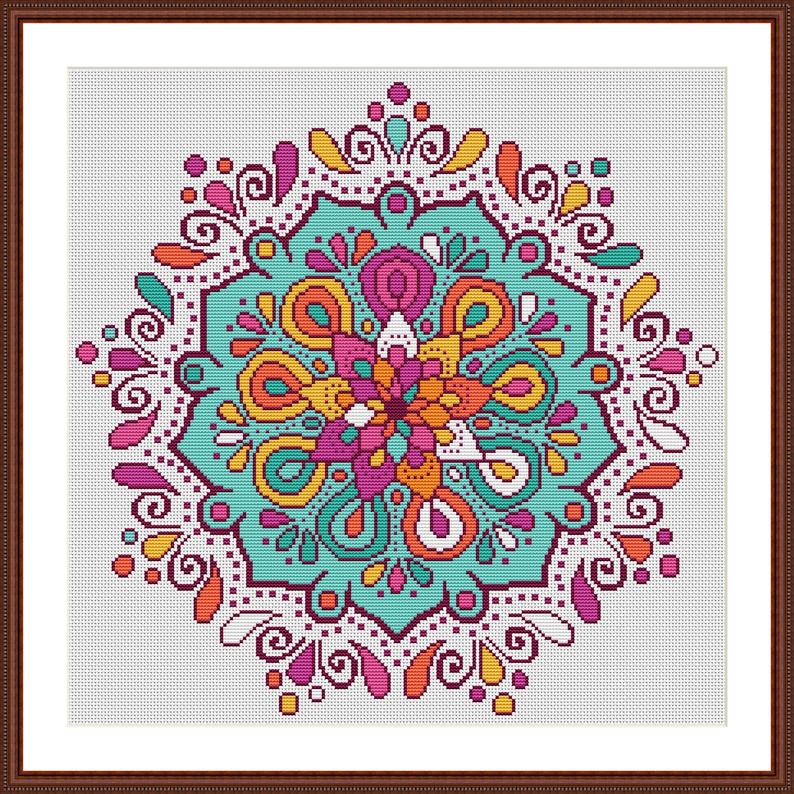 Mandala 1 from Iris In Love Designs
This mandala cross stitch pattern just scream summer fun.
Mandala Rainbow Flower
Mandala Rainbow Flower Cross Stitch Pattern from Cross Stitching String Art
Another summer fun colors mandala. The petals are eye catching in this pattern.
Colorful Mandala Heart Cross Stitch Pattern
Colorful Mandala Heart from Crazy Bee Patterns
Another beautiful mandala from Crazy Bee Patterns. This one is stunning, especially on the darker background.
Save it for Later