Please note that this post may contain affiliate links. You can read my full affiliate disclosure at the bottom of the page.
This is another crochet dishcloth pattern, but this one has the trinity stitch. I thought the texture looked cool and decided to try it out with a dishcloth. The result was awesome looking.
I've included some directions with pictures on how to do the trinity stitch. One recommendation when doing this dishcloth, especially if using the Lily's Sugar and Cream Yarn, is to let the ch 1 of the trinity stitch be loose. When working with stiff cotton yarn, trying to get your hook into that chain space when doing the next row can get tiring on the hands if the tension was tight when you did the chain.
Other Free Dishcloth Patterns from FirstTheCoffee.com:
Materials:
Crochet Abbreviations Used (US Terms):
ch – chain
sc – single crochet
sc3tog – single crochet 3 together
yo – yarn over
trn st: Trinity stitch (directions below)
Special Stitch Directions:
Trinity Stitch
The Trinity Stitch (trn st) is worked by doing a single crochet 3 together (sc3tog) starting in the last stitch worked, then a ch 1 after. It counts as 2 stitches)
trn st: sc3tog starting in last stitch worked, ch 1
More Detailed Directions
Step 1: Insert hook into the last stitch worked: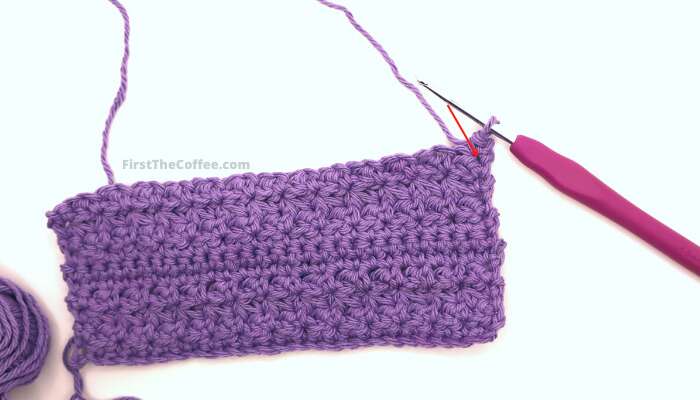 Step 2: yarn over (yo) and pull up a loop, insert hook into the next stitch, yo and pull up loop, insert your hook again into the next stitch and yo and pull up a loop. You should have 4 loops on your hook.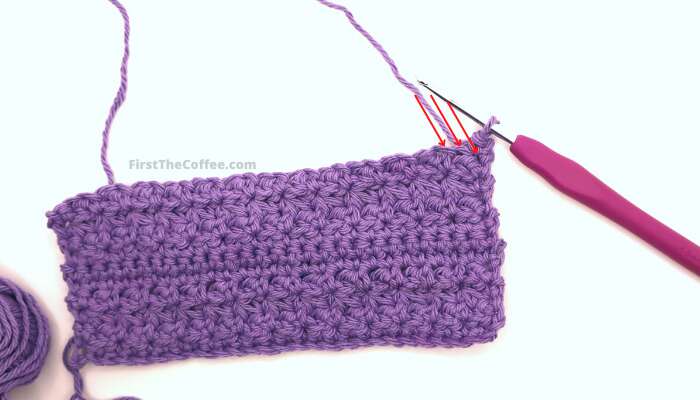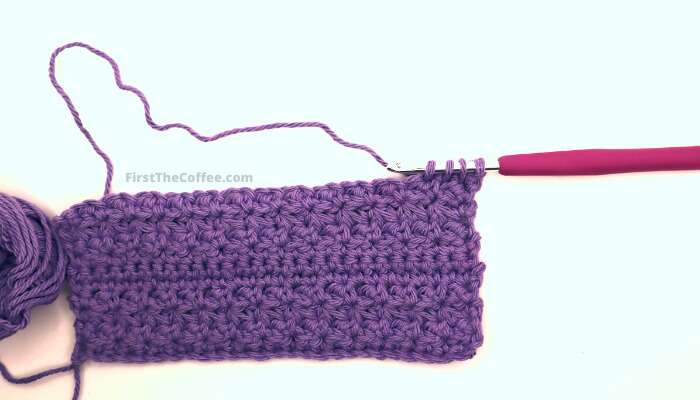 Step 3: yo again and pull up a loop through all 4 loops on your hook
Step 5: ch 1. This completes 1 Trinity stitch and will count as 2 stitches total.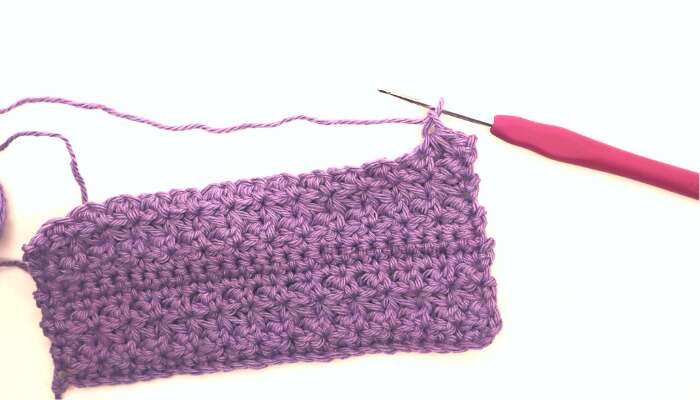 To start the next Trinity Stitch: you will start by inserting your hook into the last stitch worked for the previous trinity stitch and the following 2 stitches, as shown below: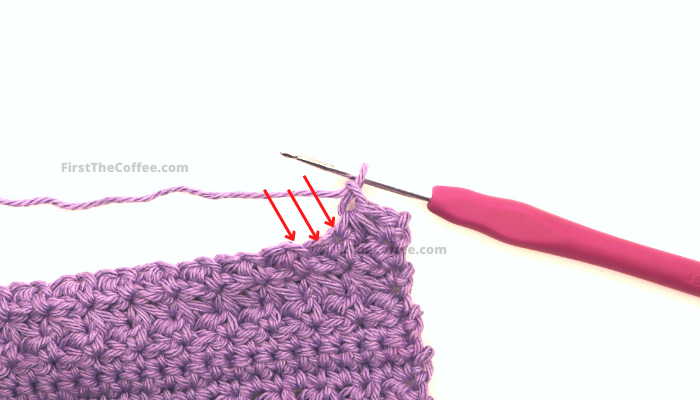 Ending a row with a Trinity Stitch: when ending the row on the last trinity stitch you will not do a ch 1 for the last step, instead, you will do a sc in the last stitch of the row.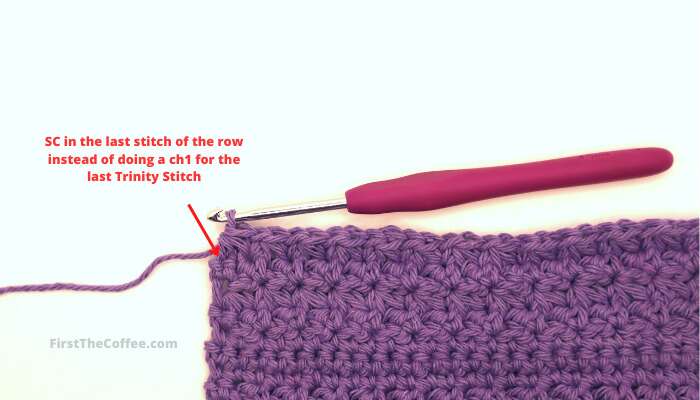 Notes
This crochet pattern is written in US terms.
If you want to change the size of this dishcloth, the initial foundation chain needs to be an even number.
Trinity Crochet Dishcloth Pattern
Foundation: ch 30
Row 1: sc in 2nd ch from hook, sc all across, turn (29 stitches)
Row 2: ch 1, sc in the first stitch, trn st 13 times, on the last stitch do the first part of the trn st but do not ch 1 as the last step, sc in the last stitch, turn (29 stitches)
Row 3 – 4: repeat row 2
Row 5 – 7: ch 1, sc in the first stitch, sc all across, turn (29 stitches)
Row 8 – 20: repeat row 2
Row 21 – 23: repeat row 5
Row 24 – 26: repeat row 2
Row 27: repeat row 5, fasten off and weave in ends
Copyright:
You may not copy or sell my patterns. You may not claim my patterns as your own. You can sell your finished items made using my patterns but please credit FirstTheCoffee.com by linking back to this pattern. You may not re-publish my photos as your own. If you are interested in using one of my patterns in a roundup post on your blog, you can use one photo and link back to the pattern on my blog. Do not repost/copy the pattern.
Other Crochet Patterns From FirstTheCoffee.com:
More Free Crochet Patterns from First The Coffee