Are you wanting to get your next yarn haul without breaking the bank?
You're not alone! Many crocheters and knitters are looking for the cheapest place to buy yarn.
Nothing beats the joy of finding a great yarn deal when they find cheap yarn online and offline.
Whether you're seeking discount yarn in bulk for a big project or just want to add to your stash, knowing where to buy cheap yarn can be a game-changer.
While some have their go-to local yarn discount outlets, the yarn companies and craft stores online offer a wide array of options. Some of these yarn deals can be getting a discount for buying in bulk or finding clearance yarn with free shipping.
In this post, we'll go over the top spots both online and offline to get your yarn cheap without stretching your budget.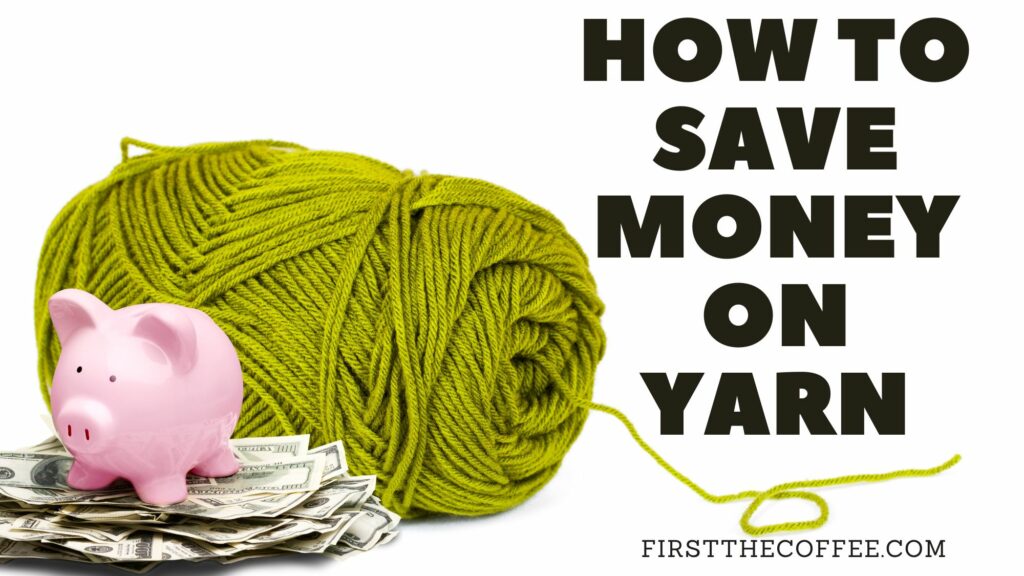 How To Save Money On Yarn
Luckily if you're looking to save some of that hard-earned dough when you buy yarn there are plenty of options to help you not pay full price for another skein if you plan your yarn shopping out and shop around.
Shop The Sales
Most online stores have sales. You can always find a few going each week across different sites that sell yarn.
You can sign up for various sites' newsletters so you can be updated right away when each one starts a new sale. (You might want to have an email just for your crochet and yarn for this type of thing).
Offline is a bit more of a hunt for sales. Big box stores cycle sales on yarn from 25%, 30%, and up to buy one get one 50% off.
Sometimes they will even have BOGO (but these sales are few and far between).
To keep up with these sales just go to your favorite craft store website and sign up for their newsletter, or you can just check back on their site each week to see what they have going on.
Coupons
Many big box stores such as Joann's or Michaels have new coupons each week that you can use both online and in the store. Coupons will range from a certain percentage off an item or even your entire purchase. Sometimes they will also have free shipping coupons available for online purchases.
Using the coupons that give a percentage off your entire purchase of course are one of the better ones to use. But many times the items have to be regular price for these to be used. So if you can pair a free shipping coupon with a current sale, that can usually give you a good discount without having to throw in extra for shipping.
You can get these coupons usually by signing up on the store's mobile app or website. Many websites will offer an initial discount coupon code for new sign-ups.
Newsletters and Sales Pages to Help Get Discounts for Yarn
For the majority of these sites, the email sign-up is at the bottom of each page, or you can also sign up by creating an account with them.
Free Shipping on Yarn
If you are buying yarn online, many times you can stack sales and coupons and free shipping. While YMMV, most of the times that I have shopped sales at Premier Yarns, Joanns, and Michaels they have always had free shipping available once a certain dollar amount has been reached. I've been able to use that in addition to the sales and coupons to make my yarn dollars go further.
Kits
Often sites will offer a discount on yarn for buying pattern kits.
Two of the most common sites for this kind of discount are Lion Brand Yarn and Mary Maxim.
Where to Buy Cheap Yarn Online
There are plenty of places to buy yarn online and get good prices. Below are some of my favorite places to shop for yarn online and grab deals.
Lion Brand Yarn
Joann
Michaels
Yarnspirations
Herrschners
Premier Yarns
Hobbii
Ice Yarns
Mary Maxim
Love Crafts
We Crochet
Knit Picks
Ebay
Where To Buy Cheap Yarn Offline
Walmart
Name-brand Yarns
Walmart does carry a few name-brand yarns, such as Lion Brand, Bernat, Red Heart, and Caron.
Walmart Mainstays Yarn
Walmart also has its own brand of yarn, mainstays.
Facebook Marketplace
Yes, this is kind of online, but for good deals technically you need offline access to whoever is selling you the yarn.
Many people are destashing on Facebook Marketplace.
Discount Stores such as Olie's
Discount stores that buy things in bulk are great places to find cheap yarn.
Often these yarns are discontinued and that is how they get them so cheap. But other times they may have some popular yarns that are still in production.
For my local Olie's they usually always have some type of yarn, but their weekly flyer will show special sales when they get large shipments in. So just keep checking local ads and your local stores to see what may be a good deal.
Dollar Tree
Dollar Tree is known for carrying Just Yarn which is made by Premier Yarns.
But did you know that sometimes you'll find other well-known brands in the store? It's very random, but I've walked into my local Dollar Tree and found Lion Brand Summer Nights yarn in there.
This is one of those places like the big discount stores where you just have to keep going in and checking to see what they may have when it comes to those special finds.
Yard Sales
You never know what you may find at yard sales. People often destash in yard sales too.
I love checking out local yard sales to see what craft supplies I can find for a great price.