Please note that this post may contain affiliate links. You can read my full affiliate disclosure at the bottom of the page.
I love the look of the crochet moss stitch. I decided to make a few things using this simple stitch, starting with a Moss Stitch Crochet Dishcloth.
All you have to do to make this unique-looking stitch is a chain and a single crochet stitch. This makes a great beginner-friendly crochet project that is quick once you get the hang of the stitching. I was able to start cranking these out in about 30 minutes after my hands got used to it.
I did use a smaller crochet hook than what I usually use for my dishcloths that I have patterns for. It just seemed to make the stitch look neater with the smaller hook.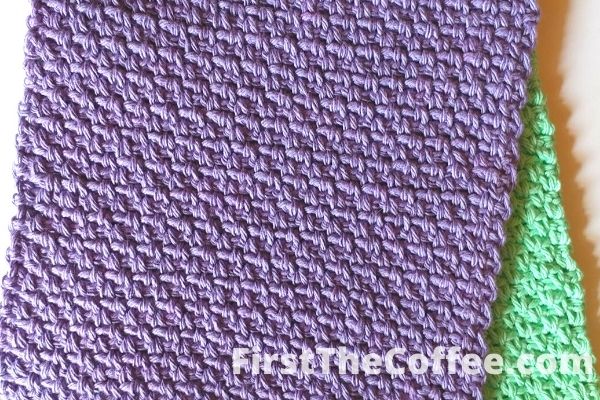 Notes:
This crochet pattern is written in US terms.
The initial chain needs to be an odd number.
When finishing a row the last sc will be into the ch2 space from the beginning of the previous row.
Materials:
Yarn needle to weave in ends.
Crochet Stitches Used:
Moss Stitch Crochet Dishcloth Pattern:
Foundation: ch 37
Row 1: sc into the 3rd chain from hook, * ch 1, skip next ch, sc in next ch, repeat from * to the end of the row, turn. (The last stitch will be a sc in the last chain space)
Row 2: ch 2, sc in the first ch space in the previous row, * ch 1, skip next sc, sc into next ch space, repeat from * until the end. (The last stitch will be a sc in the space between the 2 ch at the start of the previous row.
Rows 3 – 35: repeat row 2.
If you are want to add more height just keep adding more rows. Once you are happy with the height fasten off and weave in ends.
Copyright Notice:
You may not copy or sell my patterns. You may not claim my patterns as your own. You can sell your finished items made from using my patterns but please credit FirstTheCoffee.com by linking back to this pattern. You may not re-publish my photos as your own. If you are interested in using one of my patterns in a roundup post on your blog, you can use one photo and link back to the pattern on my blog. Do not repost the pattern, link back to the pattern on FirstTheCoffee.com
Other Free Crochet Patterns from FirstTheCoffee.com