Bernat Blanket Yarn is a very popular yarn to use to crochet blankets (I mean after all, it's named for it 🙂 ) And it can make some super cozy and warm blankets that can be stitched up fast due to the super bulky size of the yarn. In this roundup post, we've put together a list of some gorgeous crochet blanket patterns that all use Bernat Blanket Yarn.
How Many Skeins of Bernat Blanket Yarn is Needed to Crochet a Blanket?
The number of Bernat Blanket Yarn skeins needed for crocheting a blanket is going to depend on the size of the blanket you are making along with the individual pattern.
On average most blankets use the following number of skeins by size (make sure to check the pattern you selected for the exact number of skeins needed):
| | |
| --- | --- |
| Size | Number of Skeins for Bernat Blanket Yarn with 220 yards/skein |
| Baby Blanket | 3 Skeins |
| Lapghan | 3 – 4 Skeins |
| Throw/Afghan | 7 – 8 Skeins |
| Twin Size Blanket | 9 – 10 Skeins |
| Full Size Blanket | 13 Skeins |
| Queen Size Blanket | 15 Skeins |
| King Size Blanket | 17 – 18 Skeins |
Even More Crochet Blanket Patterns: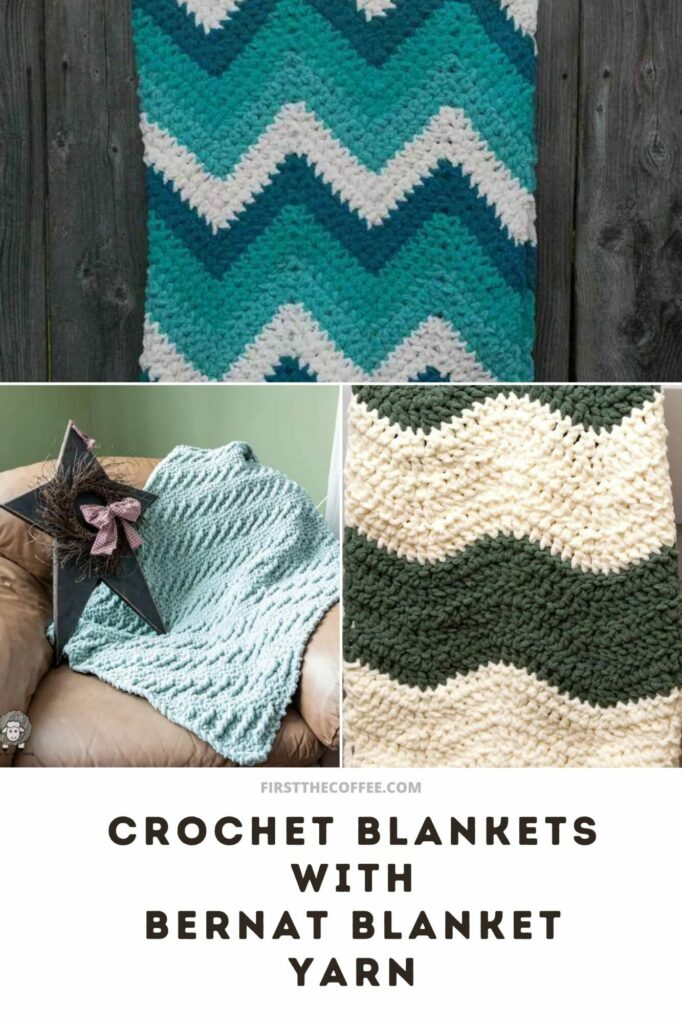 What Size Crochet Hook Should Be Used for Bernat Blanket Yarn?
Again this is going to depend on the individual pattern that you have for your blanket. Designers choose different hook sizes depending on the stitch and look that they are trying to achieve with the pattern design.
Bernat Yarn itself suggests an 8.00 mm crochet hook for their yarn, but I've seen 6.00 mm hooks used for some patterns and even big hook sizes such as 19.00 mm crochet hook.
Crochet Blankets With Bernat Blanket Yarn
If you like gentle ripples and you want a quick and easy crochet blanket project for the weekend, then the Remy Crochet Lapghan is just the pattern for you. This lapghan is guaranteed to keep your legs warm on cold nights.
Photo Credit: theloopylamb.com
The color teal and chevrons just screams "Stitch Me!" One of my favorite colors, I just want to sink my hooks into this beautiful blanket pattern from The Loopy Lamb.
Photo Credit: theloopylamb.com
The Striped Thickt Stitch Blanket from The Loopy Lamb is the perfect size blanket for those wanting to have a quick crochet blanket pattern to stitch up over the weekend.
Photo Credit: www.youshouldcraft.com
This easy baby blanket pattern uses the Bernat Blanket O'Go Yarn, or you can use other shades of Bernat Blanket yarn to make this beautiful crochet blanket.
Photo Credit: theloopylamb.com
The Popping Posts Throw Blanket is a quick and easy baby blanket pattern that uses Bernat Blanket Yarn
Photo Credit: theloopylamb.com
If you're looking for a blanket you can make while binging the latest Netflix series, then this Easy Bernat Blanket Pattern from The Loopy Lamb might be just the pattern you are looking for.
Photo Credit: carrowaycrochet.com
Whip up the Snonomo Blanket in no time thanks to the use of a large crochet hook and Bernat Blanket Yarn. This versatile blanket can be created in a solid shade for a classic touch or crafted using a spectrum of colors from your yarn stash for a vibrant, rainbow effect. Whether you opt for monochrome or multicolor, this swift and simple pattern is sure to result in a cozy, eye-catching blanket.
Photo Credit: www.yarnspirations.com
Create a timeless piece that will add elegance to any room with this heirloom-worthy crochet blanket pattern that combines cozy comfort with chic style. Designed by Mikey from The Crochet Crowd, this pattern features stitches like posts, puffs, V-stitches, and crisscrosses for an engaging project that can help you up your crochet skills without intimidation. Made with Bernat Blanket yarn, this weighty and plush blanket offers both texture and softness. Create a timeless piece that will add elegance to any room.
Photo Credit: www.yarnspirations.com
This versatile and endlessly customizable crochet blanket pattern allows you to create a unique afghan. Begin with a neutral base using the luxurious Bernat Blanket yarn in a bulky weight, and then let your creativity shine by selecting your favorite stripe color from the wide range of shades available. With this blanket pattern and the color range of Bernat Blanket Yarn, the possibilities are endless, ensuring a truly personalized and exquisite result every time you crochet.